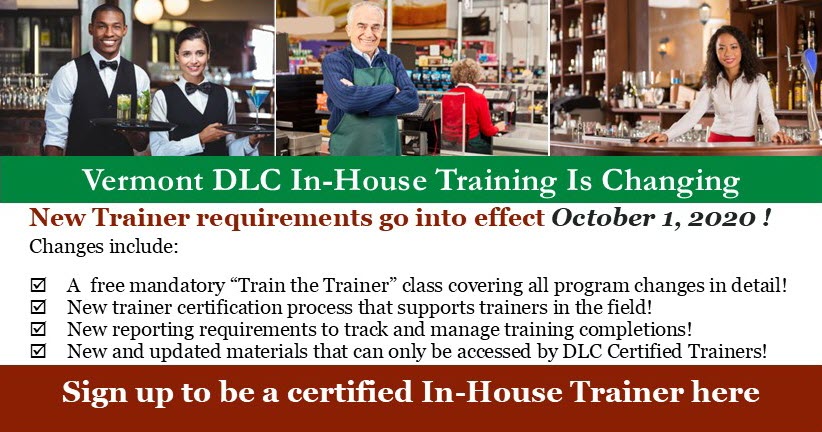 The Division of Liquor Control allows businesses to take a train the trainer approach to meeting the certification requirement with their employees using our In-House Training Program.  In-House certifications are not transferrable between businesses and are not acceptable for licensing.  Anyone delivering training  to their employees using the In-House Training Program materials must have a current DLC certification in their respective license area (1st class, 2nd class, etc.)
Anyone delivering In-House training on or after October 1, 2020 must have completed the "Train the Trainer" seminar, be a certified In-House Trainer and must follow all new requirements for the training they deliver to be considered valid. The "Train the Trainer" seminar is a FREE 1 hour virtual training that will cover the specifics of all new requirements and expectations.  After successful completion of training, an In-House Trainer Certificate will be issued.  Only Certified trainers will have access to all new training material.  Anyone previously trained using the In-House Training Program must be retrained following the new guidelines by a certified trainer by October 1, 2021.  The 2021 deadline provides a 1-year grace period to allow trainers to bring previously trained employees into compliance..
**If your employees are trained exclusively via DLC instructor-led classes or DLC online courses, these changes will not affect you.**
To sign up to be a Trainer click here or on the image above.
The Education  Publications page has printable PDFs of  mandatory and other posters.  The Education Resources page includes helpful links, as well as information about our ID Checking Tools.
Please  note that in-house material content does not reflect temporary rules regarding outside consumption in Addendum 15, nor alcohol delivery, takeout and curbside pickup of alcoholic beverages covered under Gubernatorial Directive 4 .  The content also does not reflect the temporary 90-day extension for expired IDs  from the DMV under Gubernatorial Directive 3.  For full information , please click here to access the current FAQs.